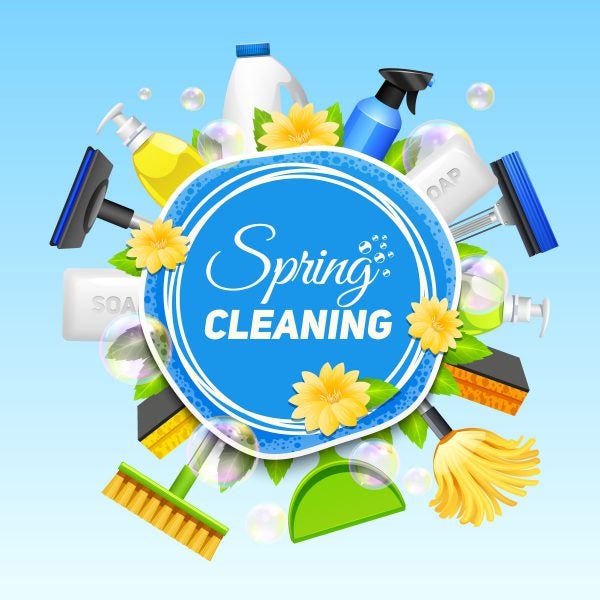 The flowers are blooming, the birds are singing, and here we are, stuck in our house with the COVID-19 blues. Let's put on some tunes and get in the spring-cleaning spirit!
Here are our tips to help you get started….
Clean Room-By-Room:
Approaching your house room by room is the most effective way to deep-clean your home at any time of the year, but especially in spring. Use room checklists as a springboard for deep-cleaning the areas of your home that need extra attention. Feel free to skip items that have recently been cleaned and focus on the parts of your home that have been neglected all winter long.
Organize and Clear the Clutter:
One of the biggest parts of spring cleaning is getting rid of clutter that you don't need. Now is a good time to take advantage of the natural spring urge to get rid of items that are weighing you down and begin fresh with a more streamlined lifestyle. A systematic approach can be extremely productive at this time of year. Sorting your belongings into four categories—trash, give-away, store, or put-away—can also be effective as you begin the spring-cleaning process. Now is time a to donate items to good causes, but check first to make sure they are accepting donations at this time. Otherwise, put these items aside until they are. Cleaning will be a lot easier when the clutter is gone.
Get the Family Involved:
 If you need a little help in your cleaning endeavors, get your family involved. Having those kids home right now can work to your advantage ?. Even the most unwilling helper can make a big difference in the workload. Don't worry: There are ways to deal with even the most reluctant helpers. This is a great time of year to get the entire family to work together. Try establishing a family reward as an incentive to get the work done.
Tackle the Seasonal Chores:
Some special chores need to be done seasonally. We ignore them for most of the fall and winter, but now it is time to bite the bullet and get these things clean. Even though these chores need to be done once or twice a year, they will help your home look better and run smoothly. Outdoor chores like cleaning grills, patios, and windows can be a little intimidating, but some simple tricks can keep the jobs manageable.
So…let's start a new dance craze – the COVID-19 CRAZY CLEANING CONGA!